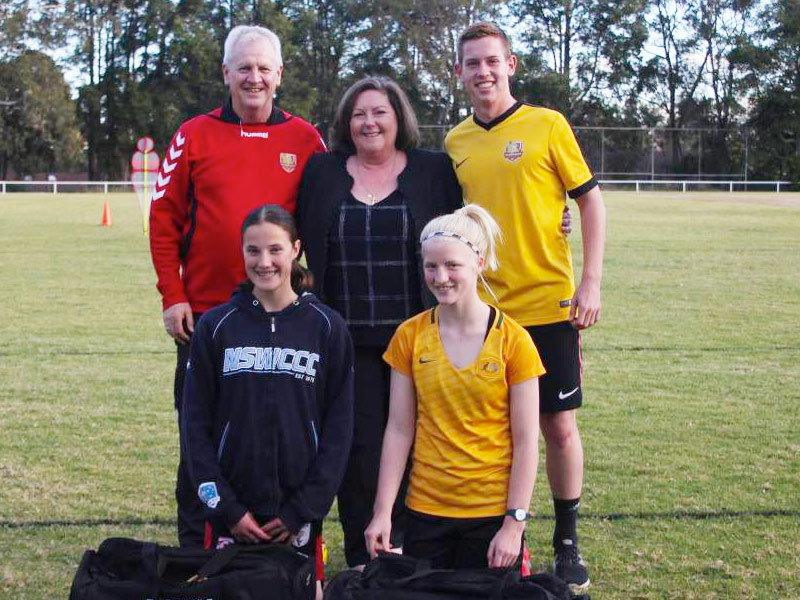 Two star strikers in the Blue Mountains have been awarded full scholarships to the Golden Boot Academy. Molly Jones and Zoe Leach. Pictured with (back) Michael Robson, Moya Dyer and 2017-18 recipient Jack Hutchings.
Could St Columbas' College student, Molly Jones be a future Matildas soccer player? She - and her parents - are certainly pulling out all the stops.
Molly Jones, 14 from St Columbas' College, and Zoe Leach, 13 of of Winmalee High, are the latest recipients of an annual community sporting scholarship. They will combine this specialist striker experience every Monday for the next 42 weeks, with the several hours of training or playing on most of other days of their week.
Golden Boot Strikers Academy managing director, Michael Robson, said after watching 22 games around the Mountains of all the proposed club nominees this year, "we couldn't split them [the two finalists]".
Zoe said she was punching the air and jumping up and down when she got the news she had won the $3000 2019 Matt Dyer scholarship.
"I was so excited when I got it. It was crazy." She said she hoped to gain more confidence on the ball and learn proper skills instead of the ones she had taught herself watching YouTube videos.
And Molly, whose favourite Matilda is Sam Kerr "a striker like me," said she was "honoured to be chosen considering there are so many talented players in the Mountains". She said she had also been honoured to receive the Matt Dyer Sportsperson of the Year award while in Year 6 at St Thomas Aquinas Primary School.
The Matt Dyer Memorial Striker Scholarship is given in memory of Winmalee footballer Matt Dyer, who tragically fell to his death at Hawkesbury Lookout in 2015. He mentored young players and was an assistant Academy coach.
Mr Robson said the scholarship winners had shown "outstanding sportsmanship and incredible level of skill". They were presented with their kit bags on Monday July 22 at Lomatia Park, Springwood where they train. The scholarship includes a winter and summer term of training, as well as a bag with their name on it and a jersey, shorts, socks, tracksuit and a ball.
Molly Jones, who Mr Robson called "extraordinarily talented", appears to be a scoring machine.
"Molly's incredible tally of 12 goals across three consecutive games makes her one of the most promising strikers in her category. She currently plays for Springwood United Football Club in the Nepean district in the Under 14s, division 1."
Mr Robson said the scholarship was a fitting way to remember Matt's coaching efforts.
"The scholarship created in loving memory of Matt's devotion to the Academy and the game of football at large, lives on with the help of his dedicated parents Moya and Russell and and sister, Isobel." Go to www.goldenbootstrikers.com.au.