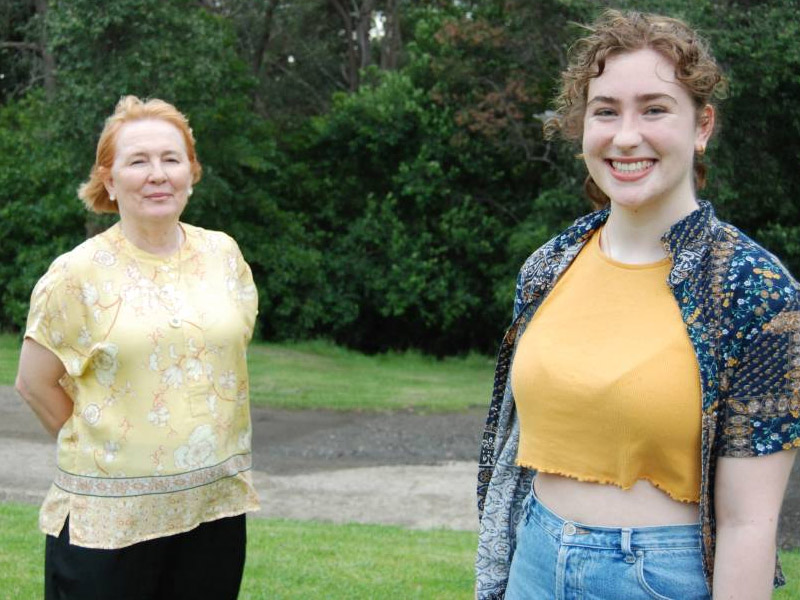 HSC student Sarah Sharp (right) with her teacher Cathryn Phillips
St Columba's Catholic College student Sarah Sharp has topped the state in Earth and Environmental Science.
The Glenbrook teenager was surprised to learn about her outstanding HSC result and plans to study psychology next year.
"This was made possible by the people around me. It has been a tough year, but at home, at school and online, I've been surrounded by the right people," she said.
Reflecting on the COVID-19 experience, Sarah said that her teacher Cathryn Phillips made the experience of learning at home a lot easier.
"Mrs Phillips has so much knowledge and was amazingly supportive," she said. "Working with such a passionate teacher is a privilege.
"It's important to be informed in our changing world. These were life lessons and we'll keep applying them."
Cathryn Phillips, who retires at the end of the school year after a 45-year career in education, said Sarah's achievement completes the beautiful send-off she has received from students.
"Sarah is incredibly talented and very committed to her studies. Such a hard worker, and her grasp of the process and writing are superb," she said.
As head of science at the Springwood school, Cathryn pushed to introduce the Earth and Environmental Science course as the Blue Mountains is such a significant environmental heritage area.
In retirement, she will continue to pursue her passion for the environment through volunteering in bush regeneration.
Principal Paul Ryan was thrilled about Sarah's success in the subject that has become so popular with students at the college surrounded by Blue Mountains National Park.
"This has been such a challenging year for all our students," he said. "Sarah has applied herself so strongly and this recognition means a lot to our whole college community."
Catholic Education Diocese of Parramatta executive director Greg Whitby celebrated the resilience and dedication of the Class of 2020.
"Though HSC success is simply one measure of student achievement, I particularly want to celebrate the dedication and determination of our three students who came 'First in Course'," he said.
"I'm so proud of the class of 2020. The grit and guts they've demonstrated under very difficult circumstances have been extraordinary. Despite the challenge of completing their studies during the COVID-19 crisis, student persistence produced strong results at local Catholic schools across western Sydney and the Blue Mountains.