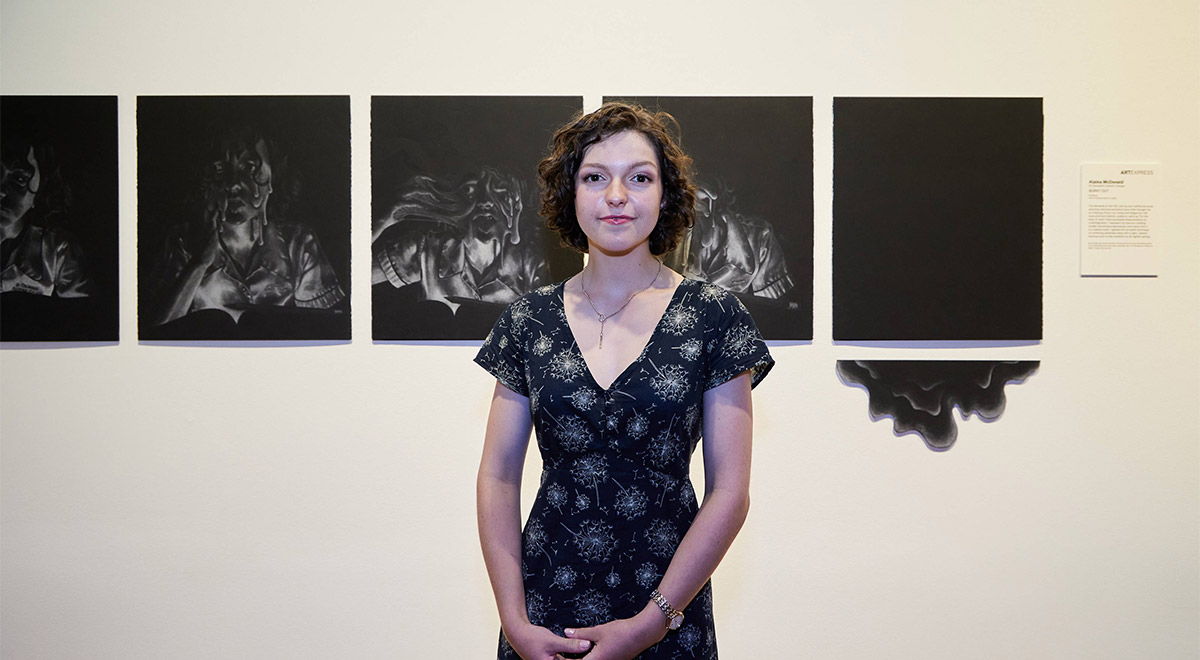 Alaina McDonald, St Columba's Catholic College 'Burnt out', ARTEXPRESS 2023 Photo: AGNSW, Christopher Snee
His is a detailed work of skulls that appears like an intricate jigsaw of memories, hers is a tale of an HSC student falling apart.
But both of their series of self portraits have been given the highest honour that a Year 12 art student can attain - chosen for ArtExpress.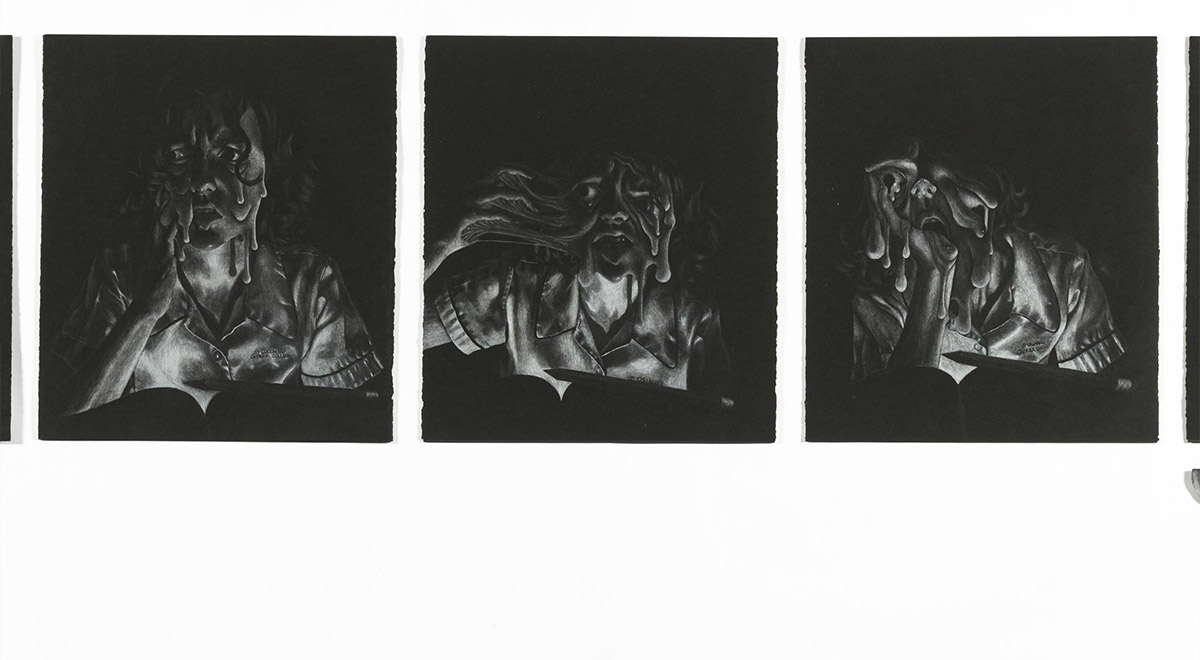 Alaina McDonald, St Columba's Catholic College 'Burnt out' segment, ARTEXPRESS 2023 (c) the artist, photo: Robert Edwards.
Their higher school certificate artworks currently grace the walls of the NSW Art Gallery, alongside great artists of the ages, including Salvador Dali, who they both cite as a major influence.
It's crazy just a room away are these masterpieces from all different cultures and time periods and there's little old me as well
-Alaina McDonald, St Columba's College
Alaina McDonald, 18, from St Columba's Catholic College in Springwood, was thrilled to find her "exaggerated" self portrait chosen.
"It was pretty crazy, my family, friends and my art teacher [David O'Doherty] all came to the opening night and kept on saying 'I'm not surprised [by the choice]'.
"It's crazy just a room away are these masterpieces from all different cultures and time periods and there's little old me as well."
Only 43 students were chosen from more than 8028 works submitted in the 40th year of this popular exhibition.
Ms McDonald of Blaxland said it "was pretty intimidating".
"You get a bit of that imposter syndrome, I had no idea it was such a small collection for the state gallery and hearing that in the opening speeches, it forced out some of the self doubt. I thought, 'this is real, this is it,' - even now I can't get over it," she said.
Her drawings capture being "burnt out ... unable to catch up" and pulling "all-nighters" due to the demands of her final school years. She had a few all-nighters to finish the artwork, she added laughing.
She said her teacher gave her the confidence to try more "expressive art," but she had loved the surrealist work of Dali since she was a student in Year 6 going to the National Art Gallery on an excursion.
"I've been interested in Dali for a long time, I got a melting clock card in Year 6 going to the art gallery. Procrastination and time has always been a thing."
But with her feet firmly on the ground she's working as a gardener while she waits to start a nursing degree later this month. She hopes to keep up her art as "a hobby, a side hustle".
Meanwhile Sam Glen of Blaxland High has his sights firmly set on becoming a full-time artist after being selected for the prestigious National Art School in Sydney.
He spent "hundreds of hours" on his "quite abstracted" self portraits - focusing on art over other studies. The Warrimoo artist said he received a HSC, "but I didn't receive an ATAR, I didn't need it for art school".
He called the ArtExpress selection "pretty fulfilling" and said he was particularly honored to know the works of another great artist he admires, Frances Bacon, were hanging just nearby.
"It felt great honestly. I love Francis Bacon and seeing his stuff on the walls, it's very moving. We share the same birthday. I feel a bit of a connection."
The title of his work 'Molecular harness' refers to "an event or memory that sticks in your mind, an important moment your mind keeps flashing back to", adding each one of the works was a drawing about a specific moment.
Mr Glen advised other students hoping for success to "draw every day... practice and make time for it, you will get better".
ArtExpress is a showcase of outstanding artworks developed by young artists from across the state for the art-making component of the HSC examination in Visual Arts.
The annual showcase, which started in 1983, gives an insight into Year 12 students' creativity, and the social and political issues important to them.
A gallery spokesman said common themes across the exhibition include family and personal identity, ideas of home and place, and environmental concerns. Formats included ceramics, designed objects, drawing, graphic design, painting, photomedia, printmaking, sculpture, textiles and fibre and time-based forms, he said.
Education Minister Sarah Mitchell said the event is "a testament to the valuable role that NSW visual arts education plays in the development of visual literacy, critical thinking and problem-solving techniques".
"These exemplary bodies of work are the culmination of several years of study, guided by quality teaching and a rigorous visual arts syllabus."
Art Gallery of NSW director Michael Brand said "as the state's leading visual arts institution, it is important that we create pathways for the next generation of emerging artists by shining a light on their artistic practice".
Previous alumni includes artists Ben Quilty (1991), David Griggs (1994), Jasper Knight (1997), Julie Fragar (1995), Tom Polo (2002), Bhenji Ra (2009) and Louise Zhang (2009).
---
ArtExpress runs from February 2 until May 7 at the Art Gallery of New South Wales. Free entry. The exhibition will come to the Blue Mountains Cultural Centre on May 27 until July 16.